Note: This guide has all the answers you'll need for the question – Are Crafter guitars good? If you're thinking of choosing Crafter as your next guitar brand then I've compiled detailed (and honest) information about Crafter guitar types, models, their significance & alternate brands to help you make the right decision.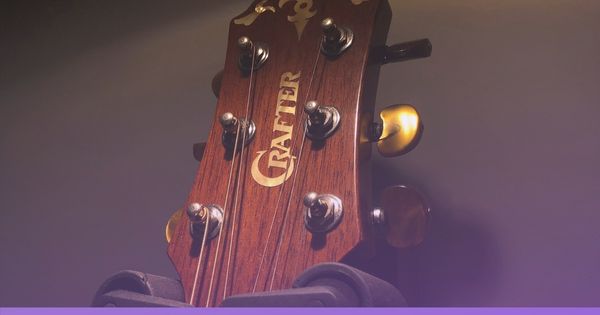 Many other regions of the world are familiar with Crafter guitars, but not as much in Australia. The question of whether or not these guitars are worth their weight in gold has generated a lot of discussion.
The quick answer to the question "Are Crafter guitars any good?" is that it depends on who you ask and which one you purchase. But for the most part, both amateur and professional players agree that Crafter guitars offer higher-than-expected quality.
Crafter has earned quite a reputation among guitarists over the years for producing high calibre instruments at reasonable costs.
Many artists assert that guitars costing three times as much as Crafter instruments can produce the same sound quality. In this guide, we will deep dive into the history of crafter guitars, share crafter guitar reviews and discuss about it's quality and pricing.
Types of guitars by Crafter and their significance
Crafter Acoustic Guitar:
The Crafter D6 N acoustic guitar, which is excellent for beginners, is a fantastic and cheap choice for guitarists of all skill levels. The Crafter D6 offers impressively pure tone for all players and is constructed with a narrow bracing structure.
Crafted Travel Guitar:
Traveler acoustic guitar, Crafter TRV 23EQ/N. This instrument is ideal for travelling musicians and buskers who desire a guitar with superb tone and features like Sitka Spruce top, Mahogany back and sides, and an integrated tuner and preamp.
Crafter Mini Guitar:
Although the four Mino guitar models are compact, they are made to provide Crafter quality both acoustically and amplified. Crafter suggests a number of acoustics that have clear names and intriguing characteristics. The relatively short scale (590 mm), the case's size and shape, the comfortable armrest on the top edge of the top, the open Grover chromed mechanics, the butterfly-shaped position marker on the keyboard made of wood, and the satin finish are all shared features with the other four versions. For the Mino / Walnut in walnut and for the Mino / Koa from the body manufactured with the Hawaiian wood of the same name, the soundboard is in solid Engelmann spruce. Instead, the Mino / Alm is totally constructed of mahogany and always has a "solid" top. The rosette on guitars with spruce tops is made of the same wood as the body, and the S-1 Preamp with Platform pickup and controls is used for the entire amplification system.
Crafter Classical Guitar:
Crafter classical guitars have a spruce top and sapele back and sides, which produce a strong, crisp tone that is suitable for many playing styles. Without having to struggle with a full-sized acoustic guitar's weight, the thinline body of this beauty makes it incredibly simple to pick up and play. The small body virtually eliminates any feedback irritations as well. For new gamers, this particular type would be ideal.
Other similar guitars are featured here:

Does Crafter make good-quality guitars?
Korean-made Crafter guitars have a solid reputation for putting tone and playability as well as design first. They are genuinely affordable guitars of high quality.
They provide great features and amazing sound at a reasonable cost. They have a reputation for being among the best sounding inexpensive guitars available.
When a Crafter acoustic guitar lands in your lap, you can immediately tell that it was made with the highest care. Every guitar that leaves the Crafter factory bears the imprint of HyunKwon's expertise and knowledge, along with Injae's dedication and innovative ideas. Crafter guitars are incredibly well-crafted from every viewpoint, from the headstock to the inlays to the fretboard to the body.
A guitar with strong feel is a crucial requirement, whether the music is the delicate, pop sensibilities of American Idol alum Janell Wheeler or the hard-hitting hardrock tones of Dario Lorina. Crafter Guitars makes it a priority to create six string guitars that allow musicians of any style or ability level to express themselves freely.
Without any pick-up or pre-amp, an acoustic guitar ought to sound fantastic right away. Combining various resonant wood types allows the maker to produce such rich, harmonious tones that both pros and amateurs will find satisfying.
Crafter Guitars typically come with a soundhole mount pickup and preamp system with under-saddle pickup and an internal microphone for individuals who want to utilise their acoustic for recording, live performances, or simply want to make some noise at home. On a quality amp, these things may become quite loud, but what's more impressive is the distinct clarity they create, even at greater volumes.
Who makes Crafter guitars?
Only the most ardent people should attempt to build a stringed instrument because it takes a lot of patience and attention to detail. In order to create a lasting legacy that would later be passed down to his son Injae Park, aspiring luthier HyunKwon Park established the business in the basement of his home in 1972. He did so with the assistance of only four employees and his skills, knowledge, and unwavering love for the trade.
Initially known as "Sungeum," which in Korean means "accomplishing the sound," HyunKwon's business specialised in the production of classical guitars. With his early works, Hyunkwon went from making guitars in his basement to being a legitimate instrument manufacturer. In order to keep up with the rising demand for his exquisite acoustic axes, he quickly outgrew his workstation and moved on to building guitars in much larger factories.
Injae decided to alter the name of their brand to Crafter Guitars after joining his father's business in 1986 because he thinks it will be more simpler to promote on a worldwide scale. Additionally, he chose the name as a compliment to the company's diligent guitar builders as well as the entire guitar business.
To the family-owned company's international growth, Injae Park's choice to rebrand it was essential. Crafter guitars are currently sold in 40 nations in the Americas, Europe, Asia, Africa, and the Middle East. Quite a change from when they were South Korea's leading guitar manufacturer.
The majority of Crafter's guitars are still made in Korea. Crafter became a key player on the global market in 2009 after constructing a cutting-edge complex in Yang Ju, South Korea. With a capacity of about 300 guitars per day, they are now Korea's largest guitar factory.
Crafter Guitar Pricing: Are they worth the price?
Crafter guitars provide excellent value for the money. For less than half the cost of a well-known brand, you may acquire a guitar with an excellent tone.
Depending on what you're looking for, you can find these guitars anywhere from $300 to $1500. They make some of the best affordable guitars on the market.
Designer TO35
The back and sides are made of rosewood, and the top is a solid Engelmann spruce. One of the most well-known versions the firm has produced is this one. It boasts a mahogany neck and dovetail neck joint, as well as an orchestra-style body.


It contains a soundhole inlay and an abalone body binding. It has 20 frets, a 1 11/16″-wide nut, and a scale length of 25 12″. Typically, this guitar costs less than $500.

Crafter Lite-DE SP-N and Lite-D SP-N
Dreadnought, symphony, classical, and travel sizes, as well as right- and left-handed models, are all available in the LITE Series. Because of the sturdy top and lower price, it was an immediate success. They can be located both with and without a cutaway.

It boasts a solid spruce top, a mahogany neck, back, and sides, and a fretboard made of Indian rosewood. It similarly has 20 frets and a scale length of 25 12 inches, but the nut measures 2 3/64″. The cost of this instrument is approximately $350.

Crafter Hi-Lite-D SP-VTG   
For beginner guitarists, the Hi-Lite Series is a fantastic entry-level instrument. It is well-liked by college students and offers unexpectedly high quality for the money. The tops can be ordered in spruce or cedar, and the back and sides are made of mahogany.

It has a fretboard made of Indian rosewood and is offered with or without a cutaway. It has a scale length of 25 12″ and 20 frets. It has a nut width of 1 23/32″. This guitar often sells for a little bit over $300.
Should you buy a Crafter guitar?
They're decent, if you want the most straightforward response. At least in terms of their pricing range.
As some online users may have argued, you won't actually receive a professional-level instrument. You are not receiving a Taylor or a Martin, for example.
These guitars are quite good for the price, though.
That would apply to nearly all of their models. From what I've heard, they're incredibly dependable and give players not just a wonderful tone but also a very comfortable performance. This is mostly because they are still a family-owned company.
For them, the goal is not to establish this enormous corporation that neglects its core objectives. With any of their guitars, you can tell they simply like producing them.
If you're searching for a beginner to intermediate guitar, I'd suggest buying one of their models. The primary drawback is that it can be difficult to locate some of their products, which you could end up liking.
They're not exactly widely available, and the offer might only be available in certain locations.
Best alternatives for Crafter guitars
Gibson: The Les Paul guitar, which has been a mainstay in the music industry for decades, is the most well-known Gibson model. The USA-made Gibson Les Paul is a high-end guitar that comes in a variety of different configurations. Like Fender, Gibson has kept a considerable level of consistency in its designs and style. Along with the Les Paul, other well-known Gibson electric guitars include the SG, Flying V, Explorer, ES-335, and Firebird. Like the Hummingbird, they feature some classical acoustics.
Fender: Along with Gibson, Fender is probably one of the most recognisable guitar brand names out there. Models like the Stratocaster and Telecaster, which are legendary in history, are among the best guitars ever produced. Their USA-made instruments have affected practically every musical genre for more than 60 years.
Martin: Martin is a name of an American guitar maker that specialises in acoustic guitars. The majority of their instruments are still produced in their facility in Nazareth, Pennsylvania, where they have been manufacturing since 1833. Martin has had a significant impact on the look and sound of the American acoustic guitar in numerous ways. Actually, they developed the now-famous dreadnought shape to help American country performers who desire more guitar projection onstage.
Washburn: In Chicago, Washburn Guitars was founded in 1883. George Washburn, the company's creator, carries on a proud tradition of excellence by creating the first Washburn stringed instruments and maintaining the standard of those instruments in accordance with the demands of artists.
The sound of the Crafter guitars is just outstanding. Simply look for one in a music store, compare it to several other well-known brands, and decide for yourself.
You may hear the comparisons that other guitarists have already made in a number of videos that are available online.
Check out our Other Blogs -