Note: Here you will find 7 of the best bass guitar for small hands that I have personally tried and tested, containing detailed information along with relevant cons that will help you conveniently compare and select the most suitable model based on your needs.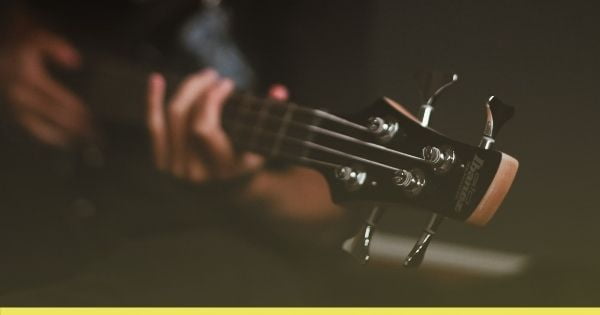 * There may be affiliate links on this page. As an Amazon Associate we earn from qualifying purchases.
Wouldn't life be perfect if your next guitar magically fit into your hands just right?
Well, you must be looking for the perfect bass guitars for small hands of yours. And, I am here to tell you that you're gonna find just what you're looking for!
Source: Picture of Sterling by Music Man StingRay Ray4​ taken while testing the guitar
The secret to bass for small hands is narrow nut width. You can switch to narrow nut width guitars as these guitars are excellent choices for people with small hands or even short fingers. The most significant advantage of these guitars is that the manufacturers recognize that there is a market especially for small hands and this makes it simple for them to learn the instrument and makes the process tenfolds easier for a beginner.

Here's all that you have to do – Select from the below-mentioned basses which best suits your needs and purchase the best guitar you can afford. These basses with thin necks can aid in learning the instrument quicker and make it way more convenient for you to learn the instrument. It also makes learning to play the guitar more accessible and more enjoyable.
Plenty of people start off by picking up a guitar that is slightly bigger in size for them and that makes a world of difference – you tend to lose interest in learning as it's too difficult to keep up (not to mention how unbearable it can for your fingers and give you multiple hand cramps per session). Easy cheat code – choose a narrow neck bass guitar or a bass with a much smaller size body and you're sorted! How do you find a narrow neck? I made an infographic to explain – make sure the nut width is below 1.6″ inches. I've mentioned the neck width of guitars in this list plenty of times, so be on the look out!
If you're feeling discouraged by thoughts like "I have a small hand, can I even play it?" then I am writing this article specifically to boost your confidence. I know that getting your hands on the correct model of guitar is difficult; when there are numerous options for bass guitar, the research can go on of months.
Many people face this issue while selecting the best musical partner for them. You don't have to bother wasting your time hopping around the Internet: I'll go over the seven best bass guitars for small hands in multiple price ranges and you can select the one that suits you the most. Let's begin –
Sr. No

Best Bass Guitar for Small Hands

Width at Nut

Check Price
7 Best Bass Guitars for Small Hands of all time
It has a great appearance, made up of Basswood. It comes in several colors like Black, Fiesta Red, Vintage Cream, Mint Green, Trans Blue Satin, Vintage Sunburst Satin, Ruby Redburst Satin, and Walnut Satin. The nut measures 1.5 inches which fall in the mid-range of nut-width of a guitar but the slim design of the guitar makes it super easy to play. As a result, it is a fantastic instrument for a beginner.
How does it sound?
It has a great sound and provides smooth rhythms, and will look and sound right at home in almost any style band.
How does it feel?
This bass guitar weighs less than nine pounds. It has a comfortable feel and is great for small hands. The hardware, however, is not for everyone. It could be a hit or miss for you.
Awesome quality
Perfect for jazz & funk genres
Noise-free Humbucker pickups
Comes at a great price
Not the best for slapping style
Everyone may not like the bright polished brass hardware
This guitar is perfect for the younger generation and is one of the best bass guitars for small hands that I've come across. It is essentially the classic J Bass the sports player series features. It is built for comfort – shaped with offset waist, this guitar is great to play standing or sitting. Fender Player Jazz's neck is thin and sleek, and the nut measures 1.5 inches. Again, the guitar's a dream guitar for beginners.
How does it sound?
It has an active EQ and performs magnificently. Additionally, it has a great feature – pickup blend. Although, as you would expect, it comes at a premium price for all the features you get. Can't blame Fender for being Fender, I guess?
How does it feel?
Its unique offset-waist body shape was one of the best features that made it an instant hit. Its contoured body makes sessions much more comfortable, whether playing standing or seated. In today's modern environment, this setup is ideal. 
Fast-action C-profile neck for enhanced playability
Off-set waist shape makes it comfortable to play sitting or standing
High-quality pickups
Comes with all Player series features
This one is one of the smallest guitars in the market, and the nut measures 1.49 inches. It is specially designed for beginners or enthusiasts looking for a short-scale instrument for their small hands. However, because not everyone prefers a smaller bass guitar, its most distinguishing feature may also be its greatest weakness.
How does it sound?
The guitar is a part of Ibanez miKros series, and miKros are known to make big noise for people with small hands. The sound of this guitar is powerful, to say the least.
How does it feel?
It has a comfortable and highly playable design. The body is textured and smooth, making it ideal for small hands. But I doubt whether the guitar will stand the test of time as it is made for not the best materials (granted you will be paying a fraction of what actual professional guitars cost).
Small scale SR body
Pickups produce power-packed sound
Lightweight
Not made from the best quality materials
Ibanez GSR 4 String Bass Guitar (GSR200TR) has an impressive body, one-piece maple neck, pearl dot inlay,and rosewood fretboard. The maple, in particular, aids in the production of upper tones, which produce a much sweeter sound. It has an active EQ, split and single-coil pickup array, PHAT-II Bass boost, a fully adjustable bridge, chrome hardware, and medium frets. It comes in several colors, and its nut width measures 1.6 inches. This small bass guitar not only sounds fantastic, but it also looks incredible. However, compared to other types of bass on the market, it is an astonishing piece and perfect bass guitar for small hands.
How does it sound?
The sound of this guitar is affluent and clear, with slight buzzing (if you play it correctly).  It produces tight, bright sounds with excellent clarity in the higher overtones.
How does it feel?
Its lightweight mahogany body is ideal for extended jam sessions. This wood adds a lot of rigidity and strength to the overall structure. There are some physical features that are not so great out of the box but not a deal-breaker. So, if you are a guitarist who enjoys playing while traveling or touring in different locations, this guitar is an excellent choice.
Easy to carry
Looks attractive
Rich sounds
A few physical characteristics are untidy. Eg: The finish
The Squier by Fender Affinity Series Jazz Bass is an excellent beginner or intermediate level bass guitar. This bass guitar has a great sound, suitable materials, and is cost-effective. It also includes a sturdy material that allows you to play with ease for many years and has a maple neck with a C-shaped profile. The nut width measures 1.5 inches making it a great choice if you're looking for great playability.
How does it sound?
In terms of sound quality, I can indeed say confidently that this guitar produces a very great sound when compared to products with a higher price tag, and I believe it may even surprise you.
How does it feel?
It has a solid and narrow neck bass guitar, which is reliable because this is something you see in much more expensive products. It is also essential to consider how good the maple neck and rosewood fretboard feel.
Cost-effective
Best for beginners
Attractive design
It's possible that tuning will take some time
This guitar has a flat-top bass with a classic Edge design and a stylish appearance. The offset body is entirely made of mahogany. It's paired with a standard maple neck (with a C-shaped profile in the back and a 24-fret fingerboard on top), and the nut width is 1.4 inches. The specifications include a four-saddle hardtail bridge, die-cast tuners, and DMT Design J/P pickups. The colour palette is comprised of Vintage Natural and Vintage Mahogany colour options (both finished in satin and accented with black hardware). It has a solid bass all over and a thin neck bass. Overall, it is a perfect bass guitar for small hands.
How does it sound?
For a beginner, this instrument has excellent craftsmanship and performance. It has the right amount of buzz. Dean Edge 1 PJ Bass is not the guitar you deserve; instead, it is the one you require. It is a great choice to create the desired tone.
How does it feel?
It has a comfortable mahogany body, and the 34′′ scale maple neck is evaluated for quick playability and a smooth feel. The finishing touches are black hardware, pearl dot fingerboard markers, and a natural satin finish.
Amazing quality
Reliable
Value for money
Only for right-handed people
The ESP LTD Surveryor '87 Bass has a classic bolt-on design with an alder body, maple neck, and Macassar ebony fingerboard in 34 inches scale. It also has high-quality components, such as a Gotoh 201-B4 bridge and a Seymour Duncan Vintage P/Vintage Jazz pickup set. Finishes are available in two colours- black and pearl white. This skinny neck guitar has four strings and has a nut width of 1.6 inches.
How does it sound?
ESP LTD Surveryor '87 Bass Guitar sounds fantastic. It is just as perfect as other guitars are.
How does it feel?
It has the most comfortable and sleek neck you will ever have on a bass. The tone is also fantastic, and you will love the bass!
Active pickup
High-quality 
Fine tone
How we Pick & Test our Guitars
I have been playing bass for years and I, too, prefer a guitar with a narrow neck.  I think it suits most females, such as myself. So, for this test I researched some narrow neck guitars and also included some guitars that I have personally used. My criteria while creating this of guitars list were:
Guitar's nut width is below 1.6″

Fast neck, thin body and lightweight basses

Affordable guitars by popular brands

Available on renowned marketplaces with a good return policy



During the test, I would play some of my go-to songs and try to improvise solos. I would make a note of the easy of playing and amount of stress on my fingers.
My only concern was that the playability of the bass shouldn't be affected due to the narrow neck and that's what I took a note of. These guitars effortlessly passed that test.
Small disclaimer: I can bet my money on these guitar sound great but I also recommend going down to a local music shop and testing it out yourself because guitars aren't one-size-fits-all, you might find out a guitar that fits your needs better.
What is a normal neck width?
Several people use guitars with 1 11/16 inches of nut width, as is the standard neck width. Another popular width preferred by the guitar players is 1 ¾ inch. 
The nut width is crucial for the feel of the guitar and playability. Distinctive neck widths and builds will cater to different play styles and string spacing preferences, so it's vital to recognize which neck types work best for you. When selecting a guitar, the neck width is unquestionably a significant consideration. Guitars come in various sizes, so you should be aware of your selections whether you prefer steel-string acoustic or electric guitars. Narrow neck bass guitar may feel easier to grasp. And if you couple it with a small scale length, you can really stop worrying about playability altogether.
Some common nut width measurements are as follows:
1.4 – 1.5 inch
It is typically the smallest nut width you will encounter. This nut width will be very comfortable for someone with small hands.
1.6 inch
It has been regarded as the most stable size in the music industry over decades
1.7 inch
This size is ideal for players with standard hands or styles with more space between the strings. You can still get the hang of guitars with this nut-width but can be a little tricky in the beginning.
1.75 – 1.8 inch
It is the largest nut width. It is not ideal for small hands, but those players who have large hands can use this nut width. It is not ideal for small hands, but those players who have large hands can use this nut width.
What type of bass is best for small hands?
The essential factor to consider when looking for a guitar suitable for smaller hands is the shape and size of the neck. Skinny neck guitar is the best choice for small hands as these basses are cost-friendly and effortlessly playable. A bass guitar with thin necks is an excellent option for people with small hands.
You can opt for a guitar with a narrow nut width, which is ideal. The most significant advantage of purchasing these guitars for small hands is that they are simple to learn and can be fun to play.
How to choose the right thin neck bass guitar for you
It is challenging for you to sort through all options when looking for the right bass guitar. Following are some recommendations to determine the right one for you:
The neck's shape and size are factors to consider when seeking a bass guitar for small hands. Bass guitar necks come in various shapes; some are very wide, making it difficult for users with smaller hands to play appropriately. Rather than being disappointed when you cannot produce clear music, selecting bass guitars with thin necks is an excellent option.
Another point to consider while choosing the right thin neck bass guitar is the number of strings. The more strings, the more notes but having more strings will become difficult for you to play the guitar. So, always remember to choose the bass guitar with four strings. It is sufficient and more feasible to play. Basses having four strings are an excellent choice for small hands.
There are several points you should consider, but another most essential point for selecting the right guitar is the weight of the bass. Some bass guitars are pretty huge, making it difficult for smaller hands to play their instruments comfortably. And also, check the type of wood used in the bass guitar's body, as this will significantly impact the overall weight.
Tips for playing bass guitar with small hands
The size or shape of your hands has very little to do with playing the bass guitar. You can play the bass guitar despite your small hands because there are several techniques you can implement. I found a great video with all the tips you'll need to learn the bass as a beginner, you can find it above. And to get consistently better follow these below-mentions points:
Exercise:
We are all aware that exercise is essential for maintaining a healthy body. Same as that, stretching your fingers might help you play the guitar. In addition, exercise your hands and perform body warm-up exercises before and after playing basses. It relaxes the muscles, strengthens your hands, and becomes more flexible.
Practice Gradually:
According to experts, you should begin practising slowly to avoid unnecessary stress and muscle strain. Gradually practising improves the movement of muscles, and it enables you to play the bass guitar more competently.
Begin with the closer fretboard:
It would help if you began playing the bass at the frets closest to each other (top of the guitar's neck area) and gradually progressed to the broader stretches down the instrument. By doing so, your hands will slowly adjust to the physical exertion, and you will be away from strain.
Learn techniques to play the guitar:
You should learn techniques before started playing the guitar because if you don't know how to play it correctly, you can suffer from pain. If you are suffering from pain, you are not doing it correctly – it's as simple as that. So learn techniques that are tailored to you. Eg: how to play the bass if you have short fingers or thin and long fingers.
People having smaller hands should choose bass guitars with thin necks. Basses with thin necks are affordable, have great sound, and are lightweight, hence significant for smaller hands. You can check out the Bass guitar for small hands in the above list and select your preference. All of them are suitable for smaller hands and are more compact than many other standard bass guitars, each of these bass guitars have a narrow neck, and they will be an excellent choice for small hands.
Consider these points while choosing the right thin neck bass guitar:
Check their shape and size.
Nut-width to determine the neck size of the bass
Check out their weight, along with the type of wood.
Last but not least, I have also listed some tips for playing the guitar with smaller hands like: exercise is essential for your hands you should practice gradually and learn to play the guitar before playing. All the best!
Check out our Other Blogs -