Note: Here we have 7 of the best Schecter guitars review, containing detailed information along with relevant cons that will help you conveniently compare and select the most suitable model based on your needs.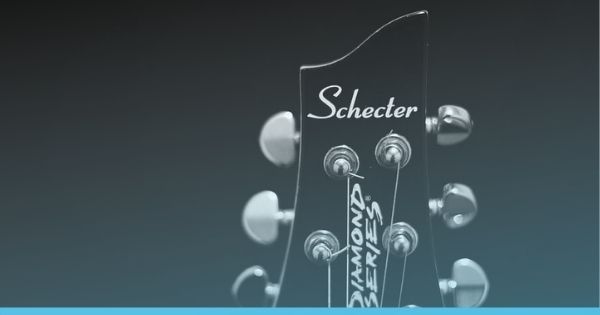 * There may be affiliate links on this page. As an Amazon Associate we earn from qualifying purchases.
Great warm low ends
EMG pickups produce precise sound 
Exceptional playability
Perfect intonation
Ebony fretboard helps in fast pace performance
Lightweight
Easy to carry
Produces great searing lead tones
Easy to balance
Long-lasting
Comes at a great price
Always wondered, 'how can I choose my perfect guitar?'. If you too had that thought. Hey! you are not alone.
Not every guitar that suits the other person will suit you. Your comfort comes under the higher priority to make the best out of the guitar.
To help you out in this process, we have given you the best 7 Schecter guitars review.
Schecter guitars have a wide range of collections for their guitarists. Understanding all the expectations that a guitarist has for their dream guitar, Schecter guitars have built numerous guitars for different models with the string type, the material, different combinations of the material, and so on.
Also you get unique guitars with different neck styles and fretboards that makes your guitar playing experience extremely comfortable. It also enhances hand movement over the instrument. So that the user doesn't need to struggle and can play with the flow of their heart.
As said earlier, there are a wide range of models available. But here we are sharing with you our top seven favorites from the Schecter guitar collections.
After analyzing the benefits of every Schecter guitar, we have come up with these Schecter guitar models. And these are handpicked based on various factors like the materials used on each part, string material, hand orientation, and more.
Though the guitar that suits you well is based on your usage, you have some of the options. So, this Schecter guitars review is going to expose you to the various options you have.
The key focus points for these guitars are how they sound and feel. So that you get clarity on which one will fit in the best for your expectations.
Sr. No

Best Schecter Guitars

Check Price
Top 7 Best Schecter Guitars Review
The mahogany body of the guitar makes sure that it resonates the tone more. So, this ensures to balance tone more than the other wood materials. With the Schecter Hellraiser C-1 Electric guitar, you get a great user experience with a controlled and warm tone.
How does it sound?
You experience a more warm tone from the guitar, giving you a clearer acoustic experience. The EMG pickups help you generate the precise sound you want to produce.  You also get the dual 'split' tone to deliver the tone you expected.
How does it feel?
You get the maple fretboard in this guitar,, and lastly, the body is. This helps you to produce crisp tones. It comes in 3 different colours – after seeing all of them in person, we can assure you that there's no way you won't fall in love with the Black Current variant.
Great warm low ends
EMG pickups produce precise sound 
Exceptional playability
Perfect intonation
Pricey as it is a premium quality guitar
The Schecter reaper-6 FR S Electric guitar comes with both the 3-way switch and 2-way on-off switch. And the super lightweight and smooth fitting of the guitar ensures to provide a wonderful experience.
How does it sound?
The built device helps in enhancing the acoustic performance of the guitar. The solid build of the guitar produces the solid tones the used strung it for.
How does it feel?
This Schecter guitar gives a smooth and easy-to-handle experience with the built-in structure. The solid wood material gives a sturdy and long-lasting usage.
For better access to the upper frets, the double-cutaway body shade is used. This makes the instrument a go-to option for fast-paced performances.
Ebony fretboard helps in fast pace performance
Lightweight, Easy to carry
The Schecter OMEN-6 comes with great sound quality and a stylish design that slays out the look. These guitars come with a super glossy look that appeals to every event. The guitar is built with both the top and neck material in Maple to resonate the sound more.
How does it feel?
Styled with a super glossy and smooth finish. The bass material on the body and the back helps in producing sound with a wider power range. The maple material ensures to provide a consistent sound without getting it dispersed. To enhance the rose-wood base, the Tune-o Matic bridge system comes under the play. This further helps in the sharpening of the sound.
How does it sound?
The instrument itself is designed with the objective to reflect out the exact acoustics that is needed. The Diamond Plus pickups help in producing the hypnotical warm tones. Since the pickups are really hot, the instrument goes well for both metal and rock styles of playing.
Produces great searing lead tones
Easy to balance
Long-lasting
Comes at a great price
Schecter C-7 DELUXE Satin Black 7-String Solid-Body Electric Guitar is a full-size electric guitar designed with mahogany and a glossy look. The instrument comes in two different colors (Black and white). The ebony material on the top gives the smooth and crisp sustain. With this guitar, you get an adjustable guitar bridge system. This helps you to get rid of dead frets.
How does it feel?
The guitar comes with Grover automatic tuners that help in a better and easier tuning process. Even after years of usage, this instrument ensures to provide you a brand new feel. The adjustable guitar bridge system helps in perfect intonation.
How does it sound?
You get the super clear sound with perfect backslash elimination. And since it is easy to tune, you can make the best out of your performance.
Helps in a higher degree of backlash elimination
Easy tuning
Helps in avoiding dead frets
The Schecter Damien Special is made with a mix of materials like mahogany, rosewood, and Maple. Also, you get the guitar with the tremolo guitar bridge system.
So, it is a little tricky to perform with this one for beginners. The mix of different materials used helps in better improvement of the resonation.
How does it feel?
If you are an experienced guitarist then, you are going to easily slay in your performance. But, if you are new to guitars, this will be a tricky task for you.
The beautiful crimson color helps in popping out the instrument on any event. The body binding with 3 black pinstripes helps in adding the extra awesome touch. 
How does it sound?
These guitars provide the best crystal clear sound experience. The string brings out the sound right out of the box without any addition or dispersion of the noise. The cooler EMG pickups help in giving out the exact sounds expected for metal and hard rock.
Active EMP pickups help in crystal clear acoustics
Easy tuning experience
Bit on the price-y side but totally worth it
This wonderful 6-string Sun Valley is designed with great quality mahogany wood. And you get the alkaline battery system with this guitar. Also, you get the tremolo guitar bridge system to enhance the acoustic experience.
How does it feel?
The 6 string system helps in better usage of the instrument. The maple fretboard help's in having easy access to the strings. You also get a 2-way adjustable Truss Rod with Heel Access Spoke Wheel.
 How does it sound?
Since this guitar is furnished with great wood materials, there is a great resonation. The tremolo guitar bridge system ensures to give perfect sharp or flat notes.
Maple bolt shape neck gives a super comfortable experience
Feels great on hands
This amazing instrument is designed with the top and back material as Ebony, Maple as the neck material. You also get the guitar bridge system adjustable so that you can easily switch between the tunes. The fretboard comes with a strong Indian rosewood material to enhance the experience.
How does it feel?
The instrument helps a wide range of users from beginner to expert level, covering their needs. So, this is a comfortable instrument that a guitarist can have in their collection.
How does it sound?
Since this guitar covers the usage of a wide range of users, it is easy to play around with any sort of style. You can enjoy all styles of guitar sounds with this Schecter C-6 Plus.
Covers a wide range of genres
Beginner and expert friendly instrument
In the beginning, the Schecter guitars were only a guitar mechanic shop. It included repairing various parts like knobs, necks, bodies, and other miscellaneous parts. But only from 1979, the company started being a complete manufacturer of guitars. 
And the company has been successfully running since David Schecter founded this brand.
are schecter guitars good for metal?
The Schecter guitars have a great collection for metal music. So, if you are interested in owning a guitar for your metal performance, then you can definitely choose Schecter guitars for that.
Since the company has more than decades of working around with the guitars and their parts, they are super clear with each requirement. So, understanding all the requirements that metal genre demands, Schecter has become one of the most notable names in the industry. The guitars deliver heavy, punchy and signature sounds of sub-genres such as heavy metal, death metal, metalcore, etc. They have become the go-to option for metal musicians and flaunt a community of their own.
Other reasons include the delivery and the material of Schecter guitars. High-quality output pickups – The guitar pickup is the device that helps in bringing out the best sound from the instrument. Apart from the tunes, the volume of the tune produced is more important. So, a proper guitar pickup helps in getting the best hot tones out of the instrument.
But Schecter guitars are not only famous for metal music. These guitars can be used for other genres of music as well. You can also check out their collections specified for different music genres.
Are Schecter guitars good for beginners?
The company has built a wide range of guitars for a wide range of users. So, no matter if you are a beginner or an expert, you are going to have your special guitar from Schecter.
As said in the above Schecter guitar reviews, with this brand you get a lot of options. Starting from beginner level to an expert level to even a celebrity level, you will not fail to find a guitar in the Schecter guitar collection.
So, you don't need to worry if you are a beginner and you need to choose one from the Schecter guitar. All you need to know is the exact requirement you need from your guitar. If you are crystal clear with your expectations, you can get your guitar for yourself.
Schecter guitars have it all – You just need to do your due diligence before you pick your new addiction. We also tried our best to specify the level of expertise you need to have to buy each above-mentioned guitar. So, you can easily pick your guitar based on your expectation or based on your experience level.
Also, like they say – you can never go wrong with a Schecter. With most of their guitars you get the best features. These are the features you get with Schecter.
Locking tuners
Comfortable neck design
Floyd Rose tremolo
Great inlay designs
Good quality hardware
High build quality and construction
 So, you don't need to limit yourself in the process of guitar selection.
Also, you get the guitars in various materials like Ebony, Mahogany, Maple, Bass material, and a lot more. Also, the rare material collection in Schecter makes it the one-stop destination for all the guitar needs of an aspiring or inspiring guitarist.
Coming to the end of the article, we hope you got to learn more about the different options you get from Schecter guitars. Now all you have to do is find your match from the narrowed-down options that we have chosen for you. All the best and happy guitar-ing!
Check out our Other Blogs -