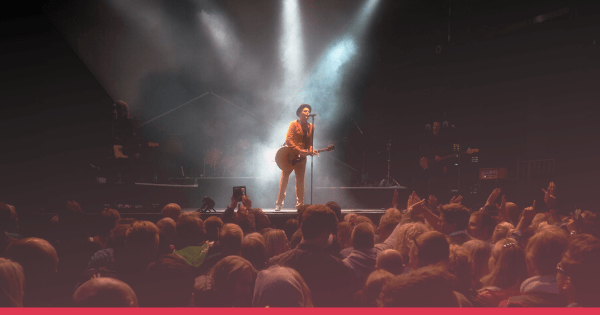 * There may be affiliate links on this page. As an Amazon Associate we earn from qualifying purchases.
Contour bowl body 
Affordable price
Acoustic + Electric
Affordable price
Lush and full sound
Excellent sound quality
Sounds great out-the-box
Great quality for the price
Best for fingerpicking
The finger-plucking genre of storytelling has its own way around the guitar.
Yes, there is a need for the best folk guitars and we have a very good reason as to why. It all started back in the 1960s, which is around the time when Bob Dylan gave birth to this rich genre which we know today. 
Since that time folk music was not limited to traditional music and it also became more about the art of storytelling and musicians using big old dreadnought and jumbo-sized instruments.
So to get the authentic folk music sound you need to find the best guitar that resembles the sound of these instruments and can get you to sound closest to what it really stands for.
Sounds softer than a regular acoustic guitar
Is not exactly made to use with a pick
Is intended to be finger plucked
Fun fact: Traditional guitars for the genre didn't come with a pick-guard because they were not meant to be played with a plectrum. This was the first sign that the guitar is actually designed to be played by folk musicians.
We still get to see those every once in a while. For example – Seagull Folk model or Martin New Yorker model. However, in this guide, we have put together the best accessible guitars that you can buy online or get in a store nearby. So here are 7 best folk guitars for your money!
Sr. No

Best Folk Guitars

Check Price
These are the 7 picks for Folk guitars (2020)
When you take this guitar in your hands and play it for the first time, it will not take you more than a few minutes to get used to it. That's one of the special things about this guitar.
How does it sound?
This guitar is like traditional jumbo-style instruments used in folk history packed in a small body. So it sounds amazing – has a midrange punch and is comfortable to play at the same time.
How does it feel?
The special thing about Ovation CS24-4 is that it has a contour bowl body. Now, contour bowl body provides the best acoustic response with the feeling of a small-body guitar.
Contour bowl body (great acoustic response + small-body)      
Affordable price
Acoustic + Electric (Built-in tuner)
Guild may not sell as many guitars as Fender or Epiphone but they sure do make quality instruments and there is no doubting that. That is why this beautiful guitar makes it to our list of best guitars for folk music.
How does it sound?
Guild-240E has arched-back design that helps the guitar project volume and resonance. Along with that, it also offers long sustain, and a lush, full sound.
How does it feel?
From a solid Sitka spruce top to a solid mahogany sides and back, this guitar has everything a great feeling guitar needs – making it a complete package that comes with a super afforadble price-tag.
Affordable price
Lush and full sound
Excellent sound quality
 It is a pretty guitar with a rich woody tone and signature Martin sound. It also has a rich history in folk music, that alone is enough to make it the winner of our guide
How does it sound?
This mahogany beauty can really sing, yet it can be sweet and sombre too, amazing dynamics; pure tonewood makes it apt for folk music. Once you pick up this guitar you will not be able to put it down.
How does it feel?
The solid mahogany back and sides provide punch and clarity that is well balanced and the neck feels just right for fingerpicking.
Sounds great right out-the-box
Great quality for the price
Some guitarists have an issue with the playability
Dreadnought, for those who don't know, is a type of guitar which is bigger than usual, to produce a louder tone. And naturally, that's a huge plus point for playing folk. Taylor 110e is a beautiful example of a good quality dreadnought.
How does it sound?
The sound is very very pleasing. It is loud and clear and does not muddle the sound. It is guaranteed to not disappoint.
How does it feel?
It is a proper well-built and complete guitar. It is definitely one of the best guitars that Taylor has ever created.
Best example of a dreadnought guitar
Loud and clear tone
This guitar is the first small-body guitar on our list. It has a low string tension which makes it extremely easy to play folk music with.
How does it sound?
For the price, it is quite a bargain because it sounds fantastic. It has a nice open and sweet tone.
How does it feel?
This model in the Alvarez Artist Series has a vintage feel as it has a slotted headstock and a 12-fret neck. Overall, the playability is great and it feels as if the guitar has its own personality.
More than affordable
Excellent playability
Some guitarists find it hard to play
Has a low-volume since it's a small-body guitar
Martin 00-18's predecessor in the 40s and 50s was the best-seller, during the folk-boom. And yes, it is the second guitar by Martin on the list but let us assure you that it is quite deserving.
How does it sound?
Martin 00s are the performer's guitars. They actually coined the term grand concert because it is large enough to perform a concert with. It sounds open and clean, totally worth the price you pay for it.
How does it feel?
It has a beautiful solid mahogany body and it is a short scale guitar which makes it extremely fast to play.
Rich history of folk music
Short scale for easy playability
Perfect to impress a group on-the-go
Can be expensive but is totally worth the money
There is no doubt that Fender is ruling the electric guitar world but some might say that the acoustic lineup by Fender is severely underrated. And Fender CT-140SE is one of those guitars for sure.
How does it sound?
It sounds lovely, very very bright. And since it is a small guitar it is perfect for fingerpicking; you can tell this guitar was crafted while keeping folk genre in mind.
How does it feel?
This guitar is going to be your friend, it matures with you. What we mean is it has a solid top and the material used is spruce which only gets better and better the more you play it. The older your friendship gets the better it is.
Great attention to detail that comes with a Fender tag
Extremely good for the price
Can be an awesome travel guitar
How to play folk music on guitar
A lot of folk music comprises of fingerstyle way of playing. Especially a classical guitar is used exclusively to play fingerstyle. Fingerstyle is when you are using your fingers to pick the strings in a pattern while your other hand holds down the chords. 
The individual picking of the strings starts with your thumb on the lower three string and then rest of the fingers to finish the pattern. And then that all over again. Now, the first tip here is to master the skill of holding down the chord – once you do that, your fingerpicking will naturally sound clear and bright.
Another good tip for fingerstyle playing is usually your right hand (or left if you are a left-handed guitarist) sits diagonally pointing towards the neck of the guitar – that's great for strumming the guitar but for fingerpicking, you have to position your hand so that all your fingers are pointing towards the ground. What this does is it brings your fingers naturally into the position to line up on the strings that they're going to be playing.
The last tip we want to leave you with is when should you choose fingerstyle, strumming or something completely different – all depends on the choice of the song that you want to play. So it is good to learn a bit of every style and play what you love the most.
Guitar fingerpicking for beginners
Fingerpicking while playing the guitar is a great skill to have and it is the foundation of a skilled guitar player. The golden rules of fingerpicking are – get familiar with the strings as much as you can and use your thumb for the lower 3 strings while using the index, middle, and ring finger for the other 3 strings.
Now, pick any two basic chord progression and start fingerpicking at the pace or tune you are comfortable with. The tune can be extremely simple as this is just an exercise to get your fingers used to the positions. And the next step would be to learn your favourite folk songs.
Usually when you strum a chord using a plectrum and a string is not audible because you are not properly pushing down on the string, you are forgiven as other strings overshadow and sort of cover-up your crime. But that's not the case in fingerstyle. Here you have to make each string sound crystal clear and use both your hands efficiently.
Some players will grow their nails longer so they can strike the nails for a more sharper sound or even go to the extent of getting acrylic nails.
The better alternative for fingerpicking for longer duration is to get yourself these things called 'fingerpicks'. Fingerpicks are nothing but pick for your individual fingers. You can find these fingerpicks easily on Amazon. Here are some of our top picks – National NP1-8B Thumb & Finger Pick Pack, Dunlop 9020TP Shell Plastic Finger & Thumbpicks.
All of these things – from nails to fingerpicks will make your playing sound loud and clear but if you pick the strings with your fingertips, it gives produces a more mellow and softer sound which is better for some songs. We hope that clears all your 'when to use which style or gear' doubts for playing folk music.
These are the best guitars for folk music in our opinion. You can be assured that these names will guarantee you the perfect sound for the genre and you can get yourself one of these even with your eyes closed. We are just glad we could help you play this amazing genre better and we want to wish you all the best for the same.