Note: Here I have compiled 11 of the best guitars with low action that I have personally tried and tested. The list also contains detailed information along with relevant cons that will help you conveniently compare and select the most suitable model based on your needs.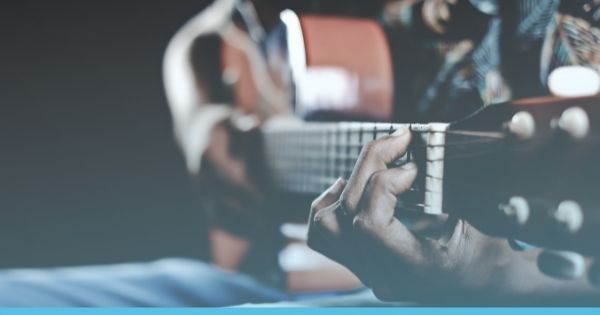 * There may be affiliate links on this page. As an Amazon Associate we earn from qualifying purchases.
Are you looking to buy your first guitar or have trouble playing the ones you already have? Want some easy-to-play string action guitar?
Low action, also known as string action, simply means that the strings are closer to the fretboard, making the guitar easier to play, and if it's easier to play, you'll play it more! If you're looking for a beginning guitar, you'll want to include low action guitars on your list.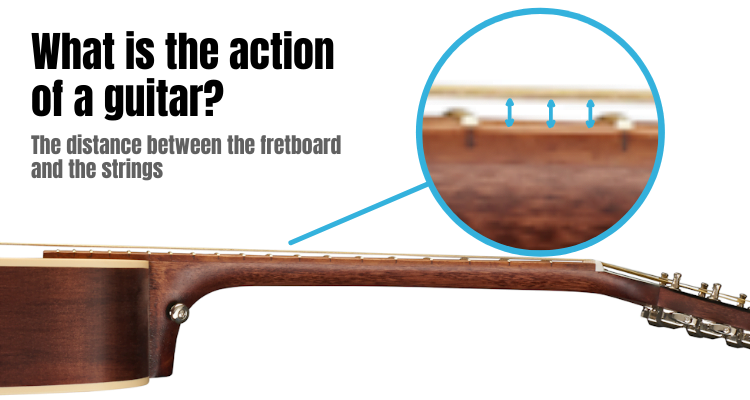 The distance between the strings and the fretboard is known as guitar action. To get a note to ring clearly when there is a lot of distance (called high action), you must apply greater pressure with your fingers. It is much easier to fret a note if the string is naturally near to the fretboard (known as low action).
So, tested 11 guitars and decided that this Yamaha FG800 is the best guitar with low action for most uses.
And there are a great options for best low action acoustic guitars are available these days. While almost any easiest action acoustic guitar can be set up with low action, I came up with my top picks for a lower action on acoustic guitar that you can buy online right now. We'll go through the "11 Best Guitars with Low Action" for the most playable guitars with low action right out of the box, as well as some suggestions for guitarists of all skill levels on how to alter the action to fit your playing style.
So let's get started!
Sr. No

Best Guitars with Low Action

Scale Length

Weight

Check Price
Top 11 Best Guitars With Low Action
The Yamaha FG proved to be an excellent acoustic guitar and is one of the best guitars with low action that doesn't have to be expensive. The Yamaha FG800 has a focus on great playability, musical tone, and class-leading quality which has been a choice of millions of guitarists. The Yamaha R&D Division created cutting-edge acoustic analysis technology, which gives the 800 Series a louder and stronger sound in the low to mid-ranges.
Characteristics:
Solid Sitka spruce top
Nato back & sides
 Rosewood bridge & fingerboard
Diecast tuners
Adjustable truss rod
How does it sound?
The new scalloped bracing design on the 800 Series is an excellent acoustic structure that keeps the top board's durability while bringing out more of the instrument's natural tone. It has a solid top with an authentic sound and a well-balanced tone without compromising strength.
How does it feel?
Its fast neck has much less friction than a conventional glossy varnish neck, due to its satin surface. It provides players with a very smooth feel and makes moving up and down the fingerboard super easy.
Affordable
Scalloped bracing
Fantastic tone
Easy playability
Somewhat prone to wear and tear
A new player's first instrument is the most important element of their musical journey. Classic Design guitars blend the timeless appeal of tried-and-true body designs with top-notch craftsmanship and cutting-edge features to appeal to both beginners and advanced players. Whether you're seeking the classic tone of a spruce/mahogany dreadnought, experimenting with smaller body designs like a parlor or concert, or exploring new tones with nylon strings or acoustic basses, the Fender series is there for you!
Characteristics:
Solid spruce top with scalloped "X"-bracing
Easy-to-play neck with rolled fingerboard edges
Mahogany back and sides
Single-cutaway dreadnought body style
Stylish and sleek
How does it sound?
Spruce and mahogany are popular and effective combinations. The solid spruce top will create a richer, more resonant tone. The Fishman pickup/preamp system comes with a number of onboard controls for amplifying the acoustic guitar while maintaining its pure, rich, and powerful tone.
How does it feel?
The Fender CD-60SCE has a well-balanced tone with a comfortable feel.  This instrument's neck, with its softly rolled fingerboard edges, produces an exceptionally pleasant fret-hand feel that's perfect for both beginners and seasoned players.
Full, rich tone
'Vintage frets' make it fun & easy-to-play
Ideal for both beginners and experienced players
Action needs some adjustment
The Cordoba C9 Crossover is one of the best Guitars with Low Action, a new take on traditional Cordoba. The C9 Crossover has a 48mm nut width, radiused fingerboard, and hand-carved mahogany neck with a thinner profile, and a solid Canadian cedar or solid European spruce top with solid mahogany back and sides. It also has a built-in two-way truss rod in the neck. It's ideal for guitarists who enjoy the feel of a steel string or electric guitar yet prefer the sound and design of a conventional C9.
Characteristics:
Solid Canadian Cedar top
Mahogany back & sides
Rosewood bridge & fingerboard
High gloss finish
How does it sound?
The fan bracing pattern on the C9 Crossover provides extra surface area for the soundboard to vibrate and respond to string strain. The guitar sounds louder and has a better tone with a more responsive soundboard.  This is ideal for guitarists who enjoy the sound and appearance of a traditional C9 but prefer the feel of a steel string or electric guitar.
How does it feel?
The Cordoba Crossover Series C9 is a nylon-string guitar with the sound and feel of a well-made classical guitar. A slim-profiled hand-carved mahogany neck with a 48mm nut width, radiused fingerboard, and thin-profiled hand-carved mahogany neck will make you feel more comfortable.
Exceptional solid tonewoods
High-quality
Attractive aesthetics
Lightweight
A  bit expensive for a beginner
The Ibanez AW54CEOPN has solid mahogany on top,  back, sides, and neck with an open pore natural finish that highlights the mahogany's exquisite wood grain. A black and white multi-rosette, a cutaway that allows you to reach the full rosewood fingerboard, a rosewood AW bridge with bone saddle, a tortoise pickguard, and chrome die-cast Grover tuners contribute to its visual appeal.
Characteristics:
Dreadnought body with cutaway
Solid mahogany on top, back & sides
Rosewood bridge and fretboard
Ibanez AEQ210TF preamp with onboard tuner
How does it sound?
The Ibanez T-bar Undersaddle pickup accurately transmits that rich sound to any amplifier system it's connected to. The Ovangkol bridge directs string vibrations to the body, resulting in a natural, warm tone.
How does it feel?
The Ibanez AW54CEOPN is a fantastic and easiest acoustic guitar to play in terms of appearance, tone, and playability. It has a wonderful neck feel and a strong movement due to the ovangkol fingerboard. The dreadnought's body allows for a great deal of natural projection.
Great sound
Quality Tonewood
Great, easy to use electronics
Guitarists like the Yamaha APX600's innovative under-saddle piezo pickup, Natural tone, and mix-friendly sound. It is one of the best Guitars with Low Action and has a more natural appearance, a deeper body for improved bass response and loudness, and a new non-scalloped bracing system for a responsive and dynamic tone.
Characteristics:
Solid Spruce Top
New scalloped bracing pattern
Rosewood Fingerboard
Abalone soundhole rosette
How does it sound?
The rosewood fretboard and solid spruce top produce a rich, well-balanced tone. Despite its shallow body, it boasts a loud voice. When connected to an amplifier, it sounds incredible.
How does it feel?
This guitar's build quality is outstanding. The scale length is ideal, and the cutaway allows for quick and easy access to the upper frets. The comfort on the fretboard enables faster play because the string space is less. It can be customized to fit anyone's hand and lets you feel your hand's good fit, letting you move freely up and down the fretboard.
Attractive appearance
Outstanding sound
Wonderful action
Built-in tuner makes tuning easy
Some people are dissatisfied with its electronics
The Taylor 214ce features Indian rosewood back and sides, a Sitka spruce top, and a full-gloss body. It is one of Taylor's most popular guitars. Its design results in a unique acoustic voice that is large enough to withstand medium-strength plucking and strumming while retaining outstanding balance over the tone spectrum, particularly in the middle. It is quite reasonable as well.
Characteristics:
Sitka Spruce top
Layered Rosewood back & sides
Venetian Cutaway
Ebony fretboard
How does it sound?
The solid wood top of this Taylor 214ce is the most essential when it comes to tone. It has a pristine voice and outstanding individual note definition. Flatpicking and fingerpicking, especially the latter, sound fantastic.
How does it feel?
The Grand Auditorium body type is an all-rounder. It features an expressive, responsive tone. It has a rounded edge, making it more physically comfortable than bigger or boxy forms like jumbos.
Well-balanced tone
Laminate koa back and sides
Grand Auditorium body
Easy-to-play
Good playability
Premium price for premium guitar
This Dreadnought combines the essential features of an excellent acoustic Guitars with Low Action into a more affordable package. It was created with the objective of providing the most pleasant playing experience possible for emerging players. The guitar's body is made of layered Sapele back and sides, with a solid Sitka spruce top and a built-in armrest that softens the bass-side edge to improve playing comfort.
Characteristics:
Dreadnought Body
Solid Spruce Top
Sapele Back & Sides
Built-in ArmRest
How does it sound?
Guitar sounds tend to be subjective. It has a Solid Spruce Top and Sapele Back & Sides which helps produce a balanced tone. They sound best when amplified, as you can achieve a fuller sound using the tone adjustment via the electronics control on the guitar, or even utilize a peripheral EQ unit.
How does it feel?
The Taylor Academy 10e has a dreadnought-style body, it seems smaller and more compact. This guitar is quite comfortable, especially for novices, because it features an armrest that keeps your arm from resting on the edge of your body. It's simple to learn and play, and it's especially suitable for beginners and those with smaller hands.
Smaller dreadnought body
Easy to play
Comfortable to hold
Built-in ArmRest
Sounds fantastic
Larger hands may find the neck a bit small
When played softly or finger-picked, the Ibanez AE Series AE245JR features Okoume back and sides, which provide a woody, warm tone and powerful high-mids with clear projection when strummed. The Ibanez T-bar Undersaddle pickup accurately delivers a rich sound to any amplifier system it's connected to.
Characteristics:
3/4-Size Acoustic Guitar
Solid Okoume top, back & sides
AE/ Nyatoh neck
Ibanez T-Bar Undersaddle Pickup
Bone Nut and Saddle
Abalone and Maple Soundhole Rosette
How does it sound?
The warm, balanced sound of mahogany enriches the tone with a mellow voice that seems ideal as a vocal accompaniment. The Okume top has a pleasant, focused tone to it. Scalloped X-bracing and custom Ibanez electronics produce a natural and lively tone. When you connect an amp, you'll get a plethora of woody tone nuances.
How does it feel?
The Ibanez AE245JR acoustic-electric guitar has a compact feel. The 23.9″ scale length is comfortable and provides light string movement. The AE body is designed to strike a balance between projection and comfort. Bridge Pins maintain the strings in the optimal position.
Warm, natural tone
Comfortable
Easy-to-play
Distinctive look
Affordable
The tuners are not the best
The Washburn WD20 Series WD20SCE is an affordable dreadnought guitar with a solid spruce top, cutaway body, and Fishman preamp. The mahogany neck of this full-sized dreadnought is topped with a rosewood fingerboard. It features a  Quartersawn scalloped bracing, rosewood bridge, chrome die-cast tuners, and bone nut and saddle. The gloss finish body and neck binding with rosewood capped headstock.
Characteristics:
Dreadnought guitar with cutaway
Solid Sitka Spruce top
Rosewood back & sides
Gloss finish
Rosewood fingerboard and bridge
Fishman Preamp
How does it sound?
The back and sides of the Washburn WD20 Series WD20SCE are crafted of rosewood, with a spruce soundboard. This combination produces a powerful and deep tone. It comes with D'Addario EXP-16 light gauge phosphor bronze strings and a Fishman 301T preamp system and under-saddle pickup that provide a genuine acoustic tone.
How does it feel?
The tone of the Washburn WD20 Series is well-balanced and has a pleasant feel to it. It has a powerful movement and a great neck feel. The cutaway Dreadnought guitar provides for a lot of natural projection.
Affordable
Flexible Tonality
Gloss finish
Attractive
With these solid wood instruments, the Taylor 100 Series 2017 114e gives a fantastic guitar-playing experience to everyone. It has layered walnut backs and sides, as well as a unique structure for more volume and dynamics. These instruments offer to expedite players' progress and increase their enjoyment for those taking the first or next step in their musical journey.
Characteristics:
Solid Sitka Spruce Top
Layered Walnut back & sides
Clear, balanced sound
Responsive
How does it sound?
Layered walnut backs and sides, as well as revised construction, give the Taylor 100 Series 2017 114e even more volume and dynamism. The popular body shape results in a versatile guitar that produces ample volume when light fingerpicking is used and responds to medium strumming and Flatpicking with a clear, balanced tone across the tonal spectrum.
How does it feel?
Taylor's 100 Series guitars with low action  are outstanding guitar playing accessible to everyone. The Grand Auditorium body type has an exceptional high-end response. Sitka spruce and layered walnut tonewoods give balanced warmth and sparkle, while the maple neck provides comfortable playability. It is a fantastic choice if you want a great all-purpose guitar.
Sounds great
Easy to play
Lightweight
Really affordable full sized-guitar
Comes with a soft case
It may be too plain looking for some tastes
The Cordoba Dolce is a guitar that is slightly smaller than a standard guitar. It's an excellent guitar for anyone searching for a lightweight, comfy, and simple to play an instrument. The top is solid wood, with mahogany back and sides and traditional Spanish fan bracing. You can use the truss rod provided in the neck to change the string height on this guitar.
Characteristics:
 Solid Canadian cedar top
Mahogany back and sides
Lightweight
Spanish fan bracing
How does it sound?
The Cordoba Dolce has a solid cedar top and mahogany back and sides which produce a warm, balanced tone. Despite its somewhat shorter string length, its typical 7-fan bracing gives a rich and warm Spanish tone.
How does it feel?
The Cordoba Dolce was a perfect match, with a vibrant yet warm tone. The woods are exquisite, with sparkling finish. The neck feels great, n or too fat, not too thin. The slightly smaller neck and lighter strings work well together, resulting in a highly quick action.
Stunning appearance & sound
Comfortable fingering position
Easy-to-play
Typical Spanish fan bracing
Ideal for strummers and finger players
Tall bridge may need adjustment
How we Pick & Test our Guitars
I'm a female guitarist so size and action issues have always been the bane of my existence. Since I started playing guitar (age 12) I always looked for guitars that were tailored to my needs – the action of the guitar being on top of my list. So in this article, I've put down the guitars that I have personally used for years and as you can tell, they're all from popular brands with credibility in the industry. The guitars I chose had to match the following criteria:
Guitars designed specifically for comfortable experience

Body shape that gives a playability and reachability advantage

Dimension that is apt for ease of play

Affordable guitars by known brands

Available on renowned marketplaces with good return policy
The testing is quite simple. I picked these guitars and played basic exercises to perform a sustainability test.
The problem of action rises during long sessions of playing the guitar and I've learned numerous songs and took many classes with some of these guitars. And these picks stand the test effortlessly.
I can promise that these guitars are some of the lowest actions you can find on guitars but if you want to save some cash then I recommend taking your current guitar to a local shop and figuring out if the action can be lowered on it.
Who needs a guitar with Low Action?
In this video, you can find more pros of getting a guitar with lower action. When buying a guitar, there are several factors to consider, such as aesthetics, quality, tone, price, etc. The level and abilities of the player are also considered. A guitar with low action may be beneficial to a beginner or intermediate guitarist since the pressure required to fret notes will be significantly less. 
Lighter strings provide a thinner sound with less bottom and mid-range tone. Solo or lead guitarists, as well as bluegrass pickers, may prefer or even require a guitar with reduced action. On a guitar with high action, improvising and playing a large number of notes at a fast pace is a bit difficult.
What are the essentials of a Low Action Guitar?
Yamaha, Washburn, Taylor and Martin, etc. all make excellent beginner and intermediate model acoustic guitars. To get the desired action, any guitar with a truss rod and bridge may be modified. If the action is set too low, the strings will buzz and sound terrible. Any action work on guitars should be done by qualified luthiers. Use the following checklist when shopping for a guitar:
Check the action, especially at the higher frets and around the sound hole.
Make sure the distance between the fret and the string is consistent all the way up the neck.
Check the intonation of the strings in every section of the guitar with a tuner.
Are there any drawbacks of having a low action guitar?
Low action has two major drawbacks: it might make the strings buzz and it can influence the loudness. As the strings are close to the fretboard, they don't have enough room to vibrate without hitting other frets, they may buzz. Of course, this has an impact on volume. Like the video suggests, if you want to lower the action of your current guitar, you can get professional help to get it adjusted.
But if you're a beginner, the most important thing is that you're able to play and love your instrument. Once you've developed finger strength, you can try something with a higher guitar action.
The YAMAHA FG800 is a fantastic guitar with great playability and tone that will appeal to players of all skill levels. It is a high-quality guitar at a reasonable cost.
Fender CD-60SCE is an excellent value guitar with a fantastic tone and high-end features. It's the best guitar for fingerstyle in this list of "11 Best Guitars with Low Action" which sums up all the qualities that you're looking for.
Cordoba C9 Crossover Classical is a superb guitar that is just the perfect size for most players. It is a premium pick and an excellent choice for beginners with good quality and impressive sound.
This list of the "11 Best Guitars with Low Action in 2021" will help you choose the best guitar for you. Price, size, comfort, and, most importantly, sound have all been taken into account while selecting the best Guitars with Low Action. We've put this together so that all of our viewers may make the best decisions possible.
Keep strumming…
Check out our Other Blogs -