Note: Here's a list of some of the best 7/8 guitars  that I have personally tried, tested and played around with. This guide is has detailed facts and important cons to help you compare and choose the most appropriate model for your needs.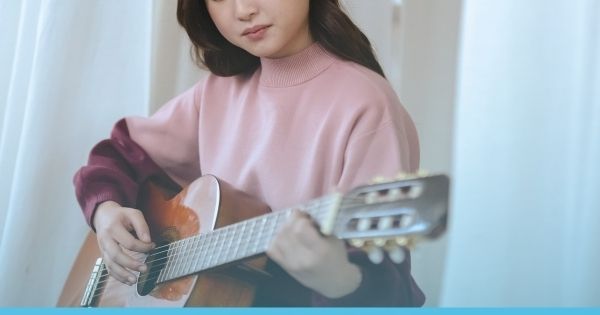 * There may be affiliate links on this page. As an Amazon Associate we earn from qualifying purchases.
A classical guitar is a beautiful instrument that people of all ages enjoy playing. It's a great first instrument, and the varieties you can play with it are endless. However, amateurs may be overwhelmed by the enormous number of options accessible when it comes to selecting one.
How to choose the right size guitar for yourself?
The player's height and age are the most accurate indicators of the proper size. It's also crucial to select a guitar that will motivate you or your youngsters to learn and play. If they like rock music, an electric guitar is a good choice. 7/8 guitars are also a great choice for kids at age 12. Steel-string acoustic guitars are ideal for folk music. Here's a quick size chart that I've created to compare the guitar sizes available for you.
You might be wondering what's the difference between a 7/8-size acoustic guitar and a full-size guitar?
Well, 7/8 size guitars are a little smaller than a full-size guitar, but that makes it easier for people with little hands to play. The scale length of a classical guitar is 26.0 inches. When estimated mathematically, the 7/8 scale would be 577.85mm or 22.75 inches.
Source: Picture of Cordoba Dolce taken while testing the guitar
Here is a list of the best 7/8-sized guitars in the market, all of which offer excellent value for money.
Sr. No

Best 7/8 Size Guitars

Check Price
The Dolce is a beginner-friendly 7/8 acoustic guitar with nylon-string. It is lightweight, comfy, and easy-to-play. It has a solid cedar top and mahogany back and sides, as well as typical Spanish fan bracing. You can use the truss rod supplied in the neck to alter the string height on this guitar. The strings are also nicely spaced apart, which gives plenty of room to fret notes cleanly.
Characteristics
7/8-size body for maximum comfort
Top made of solid Canadian cedar
Mahogany back and sides
Neck stability and adjustability are provided via the truss rod
Improved sound using Spanish fan bracing
How does it sound?
With better sound quality and Spanish fan bracing, the Dolce is a top option and the best 7/8 guitar. Despite the somewhat shorter string length, the conventional 7-fret bracing creates a rich and warm Spanish tone.
How does it feel?
Cordoba Dolce 7/8 feels better and is super comfortable. The neck size is perfect and feels great. It's exciting to play as the strings are evenly spaced.
Comfortable to play
Balanced tone
Excellent for beginners
Looks fantastic
Spanish Fan bracing
Ortega Guitars' Family Series is designed to meet the requirements of people of all ages and skill levels. It is one of the best 7/8 guitars. It has Walnut Fretboard & Bridge with Maple Binding & ABS Purfling. The top is made of spruce, and the back and sides are made of Mahogany. All models come with a luxury gig bag, making the Family series the best value in the market. 
Characteristics
Spruce Top

Mahogany back and sides

Walnut fretboard and bridge

Gloss finish wine red
 How does it sound?
The tone is decent and there is no sizzling at the strings, so it's an excellent guitar for a newbie. It has a higher break angle for a clear and sharp sound. With the classical guitar design and nylon strings, it provides a very warm resonant sound.
How does it feel?
The solid Mahogany of back and sides results in a perfectly balanced string with excellent feel and tone. It's simple to use and fun to play.
Convenient to use
Mahogany back and sides
Glossy look
Balanced tone
Good strings
High quality
Doesn't have Spanish heel
The Cordoba C9 Parlor is the best 7/8 guitar size suited for players who want the feel, comfort, and ease of playability of a smaller instrument with the lovely, warm tone. It includes a 7/8 body size, 50mm nut width, and the fan bracing design seen on most Cordoba guitars, as well as a solid Canadian cedar top and solid mahogany back and sides. 
Characteristics
Canadian cedar on top

Mahogany on back and sides

Lightweight

Rosewood fingerboard and Indian rosewood bridge
How does it sound?
The fan bracing structure increases the surface area of the soundboard in the centre, allowing it to vibrate and respond to string stress. The guitar is louder and has a greater tone with a more sensitive soundboard.
How does it feel?
The guitar has an aesthetic look and is comfortable to play. It's small size makes it simple to play, and the all-solid wood construction produces a pleasant, mellow tone.
High quality
Looks fantastic
Lightweight and easy to handle
Well-balanced tone
The Cort 7/8 Dreadnought the "Perfect Guitar For A Beginner Guitarist". The lower body size and shorter scale length allow the guitar to sit more comfortably against your body, making it simpler to play people of short stature. It has a solid spruce top with Mahogany on the back and sides.
Characteristics
Solid Spruce top

Mahogany on Back and sides

Scooped bridge

Light gauge coated strings
How does it sound?
The thick spruce top of the Cort Dreadnought produces a powerful and warm sound with a varied harmonic character. It boasts a balanced tone because of the Mahogany back and sides. The coated strings are resistant to dirt and sweat, keeping the strings feeling and sounding fresh for extended playing sessions.
How does it feel?
With a specially tailored neck profile and a smaller body shape and depth, this guitar has been created for optimal comfort. To aid players on their journey, it includes a smaller body size, reduced scale, and light-gauge coated strings. It's made for beginners, yet it's packed with pro-level functionality and high-quality materials for an authentic playing experience.
Affordable
Excellent for beginners
Authentic Acoustic sound
Can be played in different styles
The Mini II has a small size and deeper body depth, producing a well-rounded tone similar to that of a full-size nylon-string guitar. The Mini II EB-CE is resonant with a clear, defined tone owing to its solid spruce top and striped ebony back and sides. Another notable feature is the cutaway, which allows you to easily access the topmost frets, as well as the Córdoba pickup with on-board tuner, which allows you to amplify on the move.
Characteristics
Solid Spruce top

Ebony back and sides

Fan Bracing pattern
How does it sound?
The Cordobe Mini II EB-CE is one of the best 7/8 guitars and has ebony back and sides with a solid spruce top for incredible tone, as well as a Belcat Ukulele Pickup with an integrated preamp and built-in tuner to boost your signal for performance. It has a deeper body depth, creating a well-rounded tone similar to that of a full-size nylon string guitar.
How does it feel?
With its short nut width and neck, the Cordoba Mini II EB-CE feels amazing. This is a mini nylon-string guitar that is ideal for road trips, campfires, or simply playing on the couch at home. Make this small guitar your own and enjoy the great tone it creates.
Affordable

Balanced tone

Comfortable to play

Satin Polyurethane finish
Not the best quality guitar
The Kremona GTSSOLOS62COP is a 7/8 size classical guitar that sounds fantastic. Although it is only a bit smaller than the size of a normal guitar, it contains all of the same tones as the rest of the family. It's quite comfortable to play with, and it comes with a branded cushioned gig bag that includes a neck support.
Characteristics
Solid Cedar top

Sapele on back and sides

Fretboard and bridge of Rosewood

Classical Acoustic guitar with stunning sound
How does it sound?
The Kremona 6 String Acoustic Guitar has a fantastic sound. It has a red cedar top, stunning sapele back and sides, an African mahogany neck, Indian rosewood fingerboard and bridge, and a long-lasting dovetail neck joint that ensures a great tone and quality.
How does it feel?
This guitar is quite convenient to play. For many individuals, simply listening to this instrument is a relaxing experience. It has a comfortable scale length and is finger-friendly. Padded Kremona gig bag with neck support included.
Sounds fantastic
Balanced tone
Exceptional quality
Comfortable to play
Finger-friendly
No pickup transfiguration
Washburn's Apprentice is the best 7/8 guitar for any player looking for a rock solid guitar to accompany them on their journey, whether they are a beginner or a seasoned musician.  It is the most affordable instrument in the market. The top is made of solid spruce, which has a lot of resonance and generates a full, rich tone.
Characteristics
Solid spruce top

Mahogany back and sides

Balanced tone

Easy to play neck

 
How does it sound?
This acoustic guitar's grand auditorium shape and portable size make it the ideal choice for tone, resonance, comfort, and convenience. The top is made of spruce which produces a stunning voice.
How does it feel?
This smaller 7/8th sized instrument, stripped down to the essence of what a classical guitar should be, packs a lot of tone while still being one of the more comfortable instrument designs. It's a pleasure to hold and play, and it can be performed anywhere and at any time.
Mahogany back & side gives a balanced tone
Best for beginners
Sounds amazing
Comfortable to play
Difficult to play bar chords on this guitar
How we Pick & Test our Guitars
I'm a female guitarist so I've faced size issues since the time I picked up a guitar. A regular guitar to me is a jumbo-sized guitar. I even own a 3/4 size Baby Taylor myself – my point being, I know a thing or two about smaller-sized guitars. So, in this article, I've put down the guitars that I thought ticked most boxes in my checklist while I tested them. Here's what the checklist consisted of:
7/8 size guitars that almost sound as good as full-sized ones

The volume on the acoustic guitars is not compromised

Affordable guitars by known brands

Available on renowned marketplaces with the good return policy
I played things a beginner would want to learn on their first guitar - chords, finger exercises, and basic scales to test the guitars' output & playability
I promise that these guitars are some of the best 7/8 size guitars you can find in the market but buying a 7/8 size is almost as good as buying a full-size guitar. So, unless you are very sure that you want this size, you can go for a full-size one which will unlock a ton of more options.
Which guitar size is best for you if you're a beginner?
Here's a great video that explains guitar sizes and body shapes that'll suit your needs. Do give it a watch.
Here's a chart that will help you answer this question and find the guitar that best suits your need.
Guitars in the 7/8 size are designed not only for children and teenagers, but also for young women with small hands.
We'll present you with all of the information regarding the best 7/8 guitar so that you can make an informed decision. Aside from price, the sound quality, playability, and build quality of the instrument will be the most important factors to consider. The products on this list will appeal to musicians of all levels of ability, as well as folks on a variety of budgets.
Why is a 7/8 size guitar perfect for you?
In this video, you can see our premium pick of the list – Cordoba C9 in action. I'm sure you'll get a clear idea of the size of the guitar and sound from this clip.
If you're a beginner or have a small stature, a 7/8 guitar is perfect for you. It produces a tone that is strikingly similar to that of a full-size guitar and is much more comfortable to play. It's important to purchase your first guitar in the proper size to ensure that it fits correctly. Nothing is more irksome than beginning to learn an instrument that is too big for you.
That's all it is! Each guitar on this extensive list has been meticulously researched, taking into account the different tastes and concerns of a large number of guitarists who can't seem to find an affordable and outstanding guitar in one location. These guitars are all beautifully designed, sound wonderful, and have a well-balanced tone.
Start with a Cordoba Dolce classical nylon string guitar if you're a beginner. Nylon strings are significantly softer than steel strings, have less tension, and are thus easier to play. It's a top choice.
The Ortega R121 is another great 7/8 size classical guitar. It has a great tone, is well-made, and is extremely comfortable to play .This guitar is only recommended if you are a beginner. This guitar offers the best value.
You could buy the Cordoba C9 Parlor if you prefer the feel, comfort, and ease of playability of a smaller instrument with the wonderful and warm tone.
This list will help you choose the best 7/8 Guitar by comparing several possibilities based on a variety of criteria, because every player wants something different and is looking for the perfect musical companion to meet their needs.
Let's keep playing!
Check out our Other Blogs -