Note: Here I have created a list of some of the best guitars for women out there to pick from after testing them myself, This list contains detailed information along with relevant pros & cons that will help you conveniently compare and select the most suitable model based on an average female's need.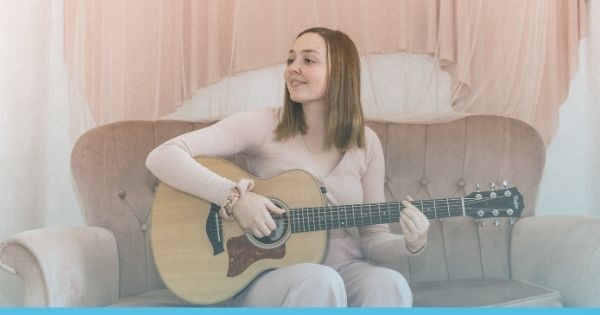 * There may be affiliate links on this page. As an Amazon Associate we earn from qualifying purchases.
Although the rock n roll world is considered to essentially be a "boys club", nothing could be further from the truth. The likes of Joni Mitchell, Patti Smith, Janis Joplin, Bonnie Raitt, and Sheryl Crow are only a few iconic examples of badass female guitarists who brought about a new wave in the world of rock n roll. A study carried out by Fender, one of the biggest guitar makers in the world, revealed that almost 50% of the world's beginner guitarists are women.
A guitar is easily one of the most fun instruments out there – it is versatile, easy to manage, not that difficult to learn, and there are a million options to choose from and find that one guitar that's just perfect for you in every aspect.
But it is also a little tricky to actually find that "perfect" guitar. Size matters a lot, especially if need a guitar for small hands, shorter arms, or just a petite body structure – basically, if you're a woman or a small person, bulky guitars, which are more commonly made and sold, can be quite a problem anatomically. Handling such a guitar can become a pretty exhausting task and can easily demotivate a beginner.
So, I tested 7 guitars and decided that Yamaha FG800 is the best guitar for women for most uses.
Getting back to the topic, choosing the right-sized guitar is can be a huge struggle, especially when you're just starting out and are more or less clueless about the countless brands out there and the kind of instruments they make, their price range, and so on. But don't fret, ladies (pun intended), I've got your back!
I've curated the perfect list for women looking for easy-to-handle guitars that are affordable, a breeze to tune and hold, and also deliver amazing tonal quality because I wouldn't compromise with the quality of sound.
Sr. No

Best Guitars for Women

Check Price
Here are the Best Guitars for Women
The Yamaha series is popular for being one of the best starter guitars – their bright tone, affordability, and smooth, easy playability are some of the awesome features that make for a great acoustic guitar for women, kids, and beginners. 
Its classic solid spruce top, rosewood fretboard, and 650mm scale length help to offer commendable clarity and tonal range. The chrome hardware finish protects the instrument from damage and gives a great finish to the guitar. Its shape makes this guitar a great women's acoustic guitar since it is very easy to handle for smaller hands.
Affordable
Easy to handle guitar
Ibanez instruments make for great beginner guitars, and this particular model is one of the best guitars for female beginners on the market. This beautiful semi-hollow body electric guitar is best suited for petite players and electric guitar beginners owing to its compact and comfortable body. 
It is affordable, lightweight, offers easy playability, and is one of the most stunning instruments on this list. Semi-hollow body guitars make for ideal instruments across various genres of music and are hence the most sought after amongst players. Its Sapele body along with the Infinity R pickup provides a wonderfully warm, balanced tone.
Affordable
Eye-catching guitar
Compact, easy to handle body
Very few options to control the tone
The name of this Taylor model is pretty self-explanatory – this cute little acoustic guitar is an excellent choice for girls, beginners, and traveling musicians. 
It was created especially for children and people with smaller hands who are looking for amazing acoustic features in a compact guitar. Its earthy tone owing to the classic mahogany body offers an authentic acoustic, fat tone and the starter-size makes it one of the best guitars for women out there.
Best size for women
Good craftsmanship
Great tonal quality
Fender designs some of the most gorgeous vintage-looking guitars in the world, and the Mustang is no exception. It has all the iconic Fender features packed in a stunning compact Poplar body with a slim C-shaped maple neck and Indian laurel fingerboard which ensures easy playability, and the expressive string bending effect that Fenders are known for. 
The classic vintage vibe of this electric guitar is to die for – lovers of the 60's aesthetic will be thrilled. If you have a little extra money to spare, girl, you'll rock, quite literally.
Exceptional sound quality
Manageable body
Aesthetically pleasing
A little expensive compared to other guitars on this list
Another 3⁄4 on the list, this electric guitar is great for novice musicians who have small hands – it makes for an ideal beginner guitar for women who are petite and are looking for an inexpensive option in electrics. 
Its humbucking pickups along with a poplar body, maple neck, and medium frets enable fast, swift playing for shorter arms, making it a great girls' beginner guitar. It is known to offer a quintessential rock and metal tone, perfect for many modern genres.
The cheapest option on the list
Small, easy to handle, and travel with
Not the best guitar in terms of tonal quality
I adore this cute Fender for a number of reasons – it is compact; a great first electric guitar for small people; what it lacks in size it makes up for in its tone and playability, courtesy of its three single-coil pickups; its classic maple neck with an Indian laurel fingerboard issues the iconic 
Strat sound that made the legendary Bonnie Raitt a fan – this electric is easily one of the best electric guitars for women looking for an affordable instrument that does not compromise with sound.
Affordable
One of the best on this list
Great for small hands and soft fingers due to low string tension
Big Strat sound playability
Not big on fretwork quality
The smallest of the Martins, this little number is a simple, easy instrument to play owing to its compact body and is pretty big on tone and overall quality. Featuring a Sitka spruce top and mahogany back and sides, this acoustic guitar is well-suited for women, children, travelers, or an intimate gig with loved ones. 
Beginners will benefit from its small, manageable size and full, resounding sound. All in all, it makes for a decent acoustic guitar for girls.
Portable body
Comes with a single padded gig bag
Good sound, great for students and novices
A little expensive for the pretty basic features it offers
How we Pick & Test our Guitars
As a female guitarist myself, I faced a problem with a regular-sized guitar when I picked it for the first time. To set a little context, I am 5'1" and regular-sized guitars look like jumbo guitars when I hold them. I've been playing guitar since I was 12 years old and I've tried my best to encapsulate all my learnings for a comfortable playing from my experience. The guitars I chose had to match the following criteria:
Body shape that gives a playability and reachability advantage

Guitars that have a narrow neck size and low action

Dimension that is apt for most female body-types right out-of-the-box

Affordable guitars by popular brands

Available on renowned marketplaces with good return policy
The actual testing was quite simple. I picked these guitars and played basic exercises to perform a reachability test.
I started with a spider exercise which helps me find out the comfort for the left-hand side of the guitar and just the general feeling of comfort with the body.
Small disclaimer: I can promise that these guitars are great for girls but I also recommend going down to a local music shop and testing it out yourself because guitars aren't one-size-fits-all, you might find out a guitar that fits your body type better.
For a little extra inspiration, I have also curated a list of some of my favorite female guitarists/musicians that have inspired women for generations.
Best female guitarist Of All Time
If you tune your guitar and change your strings with your guitar setting down, you may have tuning strength issues. It's likewise essential to revive that temperature and wetness can influence tuning strength as well. Installing a locking tuner will get rid of all the aforementioned problems for you. And here's how you install/use one.
1. Joni Mitchell
I know you saw this one coming. She obviously has to be on the top of the list – with over 122,025,062 streams, she has been named the greatest female guitarist by Rolling Stone in the 2003 issue.
Having contracted polio when she was merely nine years old, she was inevitably forced to improvise tunings that opened up endless, unthinkable possibilities in the field of music and made her an instant icon. Her legendary guitar arrangements on songs like Don Juan's Reckless Daughter define her as an exceptional pioneer of the guitar.
2. Annie Clark (St. Vincent)
Often flaunting her Ernie Ball music man St Vincent signature, Annie Clark is recognized for her mind-blowing distortion skills and has also been compared to Frank Zappa by his own son! Her unique sound speaks for itself, and though her music has been evolving with the times, it will, without a doubt, remain timeless. And I can't thank her enough for introducing "weird" into mainstream music.
3. Bonnie Raitt
Need I say anything other than just mention her name? You probably live under a rock if you're unaware of the existence of this living legend, who with her iconic customized Fender Strat dominates more genres than most musicians can explore in a lifetime. She has been inducted into the Rock n Roll Hall of Fame and has received over ten Grammy Awards – and I can never get enough of her.
4. Kaki King
American musician Kaki King was the only woman on Rolling Stones' New Guitar Gods list of 2006. She is one of the most versatile musicians and a multi-instrumentalist, though known worldwide for her exceptional guitar playing skills, and has ten studio albums to her name.
5. Lita ford
Another favorite, we all unabashedly fangirl over the ex-lead guitarist of The Runaways who now has a solo career and also a top 10 US Billboard hit. This Metal Queen is the heavy guitar goddess this world cannot do without.
What is the Best Beginner Guitar for Girls?
As beginners who are starting out their musical journey, acoustic guitar for girls is the ideal choice and I'd like to tell you all about it.  It is one of the most versatile instruments and easy to get the hang of.
I found an amazing video that shares some great tips to watch before buying a guitar. Do check it out!
Here are a few reasons why the acoustic guitar is the guitar for you:
Easy to handle – This particular quality is by far the most sought-after feature of the acoustic. It is compact and portable, which puts it on the top of the list of musicians who tour or travel frequently, and also women and children who have smaller hands and arms, hence making it the perfect pick for beginners. No matter the nature of the location, an acoustic is the best travel buddy to any musician.
Simple to play – There is really nothing more to an acoustic than its six resounding, fat-toned strings – no electronics, batteries, or any such complicated pieces of equipment.
The quality of sound in an acoustic depends solely on the type of materials used in its construction, which gives it its classic organic sound. Its simplicity is what makes it so appealing as an instrument – is the easiest guitar to play!
Affordable – Acoustic guitars are a lot cheaper than their electric siblings. You can find many awesome acoustic guitars on the market on a humble budget, which is great for beginners and students of music who would not see it fit to spend too much on a guitar as novices since there isn't really any reason to spend a fortune when one is just starting out.
Iconic and timeless – Acoustics have lived the test of time and never go out of style; they are an integral part of the music industry and lovers of music throughout the world, famous for their authentic, nostalgic sound that resonates through generations despite the drastic evolution of music itself.
Helps you learn other instruments faster – Anyone who has played both acoustics and electrics would agree that learning the former beforehand makes it easier to move to an electric guitar, which cannot be said for the latter. Although it is easier to carry and handle, the strings are thicker and the body is bulkier than an electric and takes more physical energy. Also, it helps you perfect your strumming and fingerpicking techniques since the mistakes cannot be covered up by distortion or reverb like in an electric guitar. And so when an acoustic player switches to an electric, their technique is already cleaner and their playing faster. Learning an acoustic before an electric definitely makes you a better guitarist.
Learning fingerpicking – Fingerpicking is probably one of the best, most fun techniques you can learn on a guitar, and it sounds a lot better on an acoustic than on an electric.
It doesn't matter if you are a soft player or on the heavier side – fingerpicking makes every genre of song or type of playing a unique experience and gives it definition.
Perfect for learning absolute basics – For a complete beginner who is not familiar with strings or chords on a guitar, the acoustic is most suitable as a first instrument. You can begin learning basic technique and chord vocabulary from scratch on an acoustic without worrying about immediately learning different songs. Even if you master a few chords on an acoustic, you'll be able to play many songs with just those chords. Once you've got the basics on your tips, you can pick up any guitar you want and an electric will be a breeze to play. Yamaha acoustic guitars are a great option for female beginners since they're pretty cheap and compact. Other acoustic brands that I recommend for newbies are Fender, Ibanez, and Epiphone.
Here we are! I tried my best to create a very affordable list of the best guitars for women, regardless if they are beginners, students, seasonal musicians, or kids starting out on their musical journey. Now it's your turn to pick your musical partner and begin your rhythmic journey. You go girl!
Check out our Other Blogs -